St James Church
Our local Parish Church is called St James Church. It is located on the Lion Farm Estate at Junction 2 of the M5 in the Borough of Sandwell. The church was established in its current place when the Lion Farm Estate was built in 1964. The church aspires to be at the heart of the community and to bring the message of Jesus to all who live nearby. It combines a tradition of the evangelical Anglican Church with recognition of modern needs and a desire to reach out to all who need Jesus.

St James CE Primary School is supported by the church through the Youth and Community Regeneration work of Chris Sale.

Chris provides fantastic support to the pupils, staff and parents of the school. Special assemblies are held in church that focus on the Christian calendar and special events as well as end of term assemblies which parents and the local community are invited to. Children and staff have supported St James Church family services in the past on Sunday mornings and our children see that church is an extension of the school and they can see the importance that the church has on their lives.

The church has run youth work for many years and in recent years this has developed into a desire to focus on both youth work and regeneration issues. The church works in partnership with nearby organisations, both secular and Christian, to meet its mission statements.



St James Church Website
View Here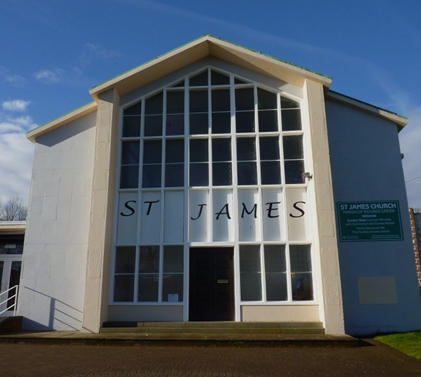 Monthly Bible verse
Galations 5:22-23
But the fruit of the Spirit is love, joy, peace, patience, kindness, goodness, faithfulness, gentleness and self-control. Against such things there is no law.
Key People
Jill Macdonald
Priest in Charge
Contact Details
07554012184
Chris Sale
Youth and Community Regeneration Coordinator
Contact Details
07798787292
Events
Sunday – 10-11am
Communion and Sunday School
Monday – 1-2.30pm
Indoor Carpet Bowls
Tuesday – 9-12
Place of Welcome
Thursday – 7-9pm
Youth Club
Contact Details
St James Church
Shelsley Avenue
Lion Farm Estate
Oldbury
Birmingham
B69 1BG

Tel No: 0121 552 9042