SATS
Below you will find information that outlines our children's performance in the SATS tests.
Please note: the governement will not publish KS2 school level data for the 2021 to 2022 academic year. They have archived data from the 2018 to 2019 academic year because they recognise that the data from that year may no longer reflect current performance.
Key Stage 2
School Progress Measures

Floor Targets set by DfE:
At least 65% of pupils meet the expected standard in English reading, English writing and mathematics, or the school achieves sufficient progress scores in all three subjects: at least -5 in English reading, -5 in mathematics and -7 in English writing. School met the floor target for progress in 2019.
Key Stage 1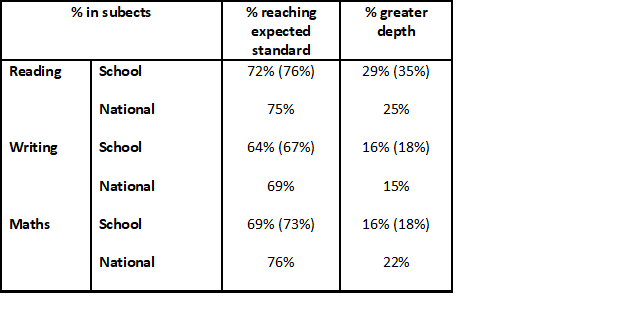 *There were 10 new starters into this year group in 18-19. The figures in brackets show outcomes when they are removed from the data set.
Phonics
71% of children reached the expected standard in the phonics screening test. This rises to 82% with new starters removed (8 new starters).